Looking to cater an event and make it spectacular? Not just the average, run of the mill catering job? Consider the many different options you have available from The Roasting Pig! Are you thinking barbecue or roasted pig? Think again! There are many different, unique delicious choices to consider!
Wild Banquets/Medieval Style Banquet
For a banquet that won't be soon forgotten, consider the Medieval Style Banquet. The Roasting Pig will present a meal that includes a wide variety of carefully chosen free range meats and organic vegetables, perfectly prepared and artistically catered for your guests. Your wild meats will include locally acquired venison, wood pigeon, pheasant (in season), as well as only the finest free range chicken, beef and pork. Every meat is expertly prepared by our staff of experienced chefs. No matter where you offer this catering choice, your event is certain to be completely appreciated by all who are fortunate enough to attend.
The Vegetarian Menu
If meat isn't your choice and you're leaning towards a vegetarian menu, the Roasting Pig can deliciously accommodate this menu as well. The side dish menu includes a wide variety of expertly prepared, mouthwatering vegetables that are special enough to create an entire banquet by themselves. Consider the aromatic garlic and rosemary buttered new potatoes, a variety of mixed salads, a wide choice of pasta salads, fresh garden favorites like tomatoes, red onion and olives garnished with freshly chopped herbs, feta cheese and gourmet dressings. Complete this banquet with your choice of various desserts made with fresh berries and other fruits, creams, and pastries for a delightful meal.
Pulled Pork Banquet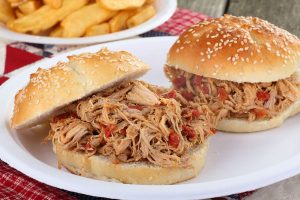 Perhaps you want a traditional barbecue catering event. Then prepare yourself for only the finest pulled pork menu available. The Roasting Pig begins your feast by marinating the pork for 24 hours with their own specially made dry rub. The meat is then slow cooked for over ten hours, allowing the natural flavors of the pork to meld with the flavors of the spice rub, creating a flavor that will melt in your mouth when you pull your pork apart using just a fork. Accompany this pork delicacy with the perfect barbecue sauce, cole slaw and other traditional sides for the perfect barbecue experience. Your guests will thank you.
The Roasting Pig is constantly thinking about how to please customers with the ultimate in cuisine. If you are planning an event and need catering services, consider The Roasting Pig as your planning partner. The event is guaranteed to exceed expectations.