When you think of a hog roast, chances are you picture a medieval banquet, or a grand traditional feast. Although hog roasts are still popular today, the idea of cooking one probably conjures up images of traditional, old fashioned cooking methods, such as a rotating spit on an open fire.
Although today's hog roasts still provide a satisfyingly medieval menu, the technology used to cook the meat has certainly come along a fair way over the years. One of the most popular hog roast cookers on the market right now is the Titan Hog Roast Machine, which can rustle up this time-honoured cuisine, with both speed and ease.
We take a closer a look below.
Premium Build
This catering-quality machine is certainly built to last, and is capable of delivering a pristine pig, time and again. Crated mostly from stainless steel throughout, it boasts durability and great aesthetics. The premium construction means it won't weather over time, boasting a high level of resistance to heat, rust, and corrosion. Even if it's left uncared for and uncleaned for long periods of time, it can still be polished back to its former glory with minimum fuss. This makes it perfect for special events, as a smart and impressive oven for weddings, corporate events, birthdays and more.
Mounted on four air-filled wheels accompanied by a trolley-style handle, it's easy to move around, and is suitable for both indoor and outdoor use without damaging surfaces. What's more, one of the doors on the base unit feature a heat-proof glass window, so you can keep an eye on items cooking inside.
Versatile Design
The Titan Hog Roast Machine features a variety of cooking options, combining a hog roast oven, spit roasting oven, and combination oven too. This makes it perfect for cooking a range of meats, from whole hogs, to whole lambs, sirloins of beef, game and rotisserie chickens.
When it comes to its primary function of cooking whole hogs, it's capable of roasting a pig up to eighty-five kilos in size, which will feed up to three hundred hungry guests. Once cooked, the meat can be served right away, or kept hot in the tray for as long as necessary, letting people come back for seconds and thirds throughout the day. You can even use the oven for roasting sides such as potatoes and vegetables.
Easy to Use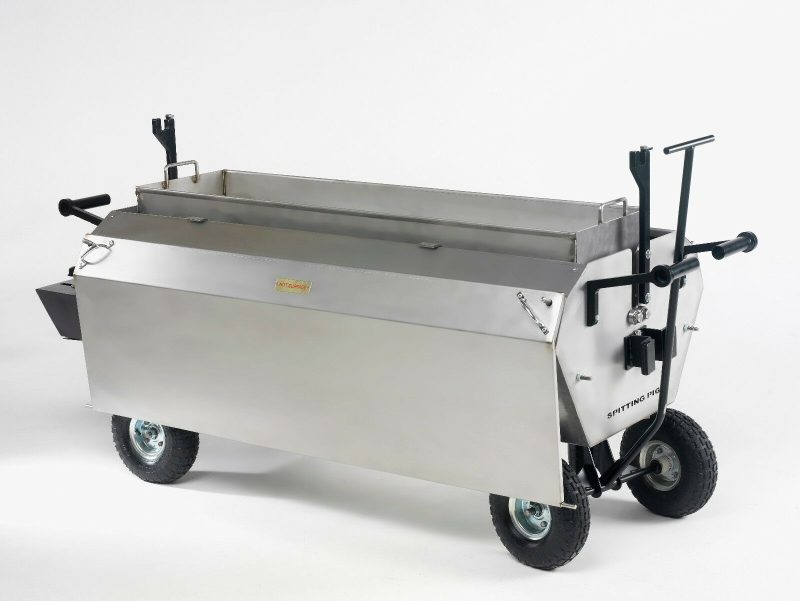 Favoured by both professionals and amateurs alike, the Titan Hog Roast Machine provides amazing food while being incredibly easy to use. It doesn't require electricity, and its gas-powered wheel-mounted design makes it suitable to use pretty much anywhere. It's slim enough to fit through most doorways, while the pneumatic tyres make for easy trolleying over most surfaces.
For members of the public looking to hire a roasting oven and enjoy playing chef for the day, it's the perfect choice. Most hire companies provide instructions for use, but when it comes to roasting a hog, it really is as easy as scoring the meat, coating with water and seasoning (according to taste), and then turning on the cooking cycle. You can then put your feet up and wait for delicious, moist pork sandwiches and desirably crispy crackling. Whether you've never cooked a hog, or you're an experienced roaster, you'll love working with the Titan Hog Roast Machine.
Hiring Options
Here at The Roasting Pig, you can either hire our hog roast service complete with our professional chefs and serving team, or on an equipment-only basis. Our staff can both drop off and collect your state-of-the art Titan Hog Roast Machine and gas canister, as well as providing the brief tutorial you'll need to get you started. You can even purchase a whole uncooked pig from us, to be delivered alongside the kit.
For any further questions, or to request a quote, please contact us today.