Here in the UK, we're spoilt for choice when it comes to picking our favourite pork dish. Pork belly, pork chops, pulled pork and the traditional roast all rank highly, and that's before we even mention sausages and bacon too.
The UK isn't the only nation to have a love affair with pork however, as can be seen in the various mouth-watering pork dishes we've spied on our travels. If you're feeling adventurous in the kitchen, or you're looking for something special to oder on your next trip overseas, then take a look at our favourite pork dishes from across the globe.
Kotlet Schabowy (Poland)
Variations of this dish can be found across the globe, most commonly the Austrian schnitzel or the French escalope. We've opted for Poland's Schabowy however as its traditionally made using pork tenderloins for a more tender and flavourful result. Dating back to the 19th century, this has been a firm favourite on Polish menus for generations. Relatively easy to make, just tenderise the meat with a mallet before marinating in milk and onions, then coat in flour, eggs, breadcrumbs and spices and fry to a deep golden brown for the ultimate comfort food.
Carne de Porco à Alentejana (Portugal)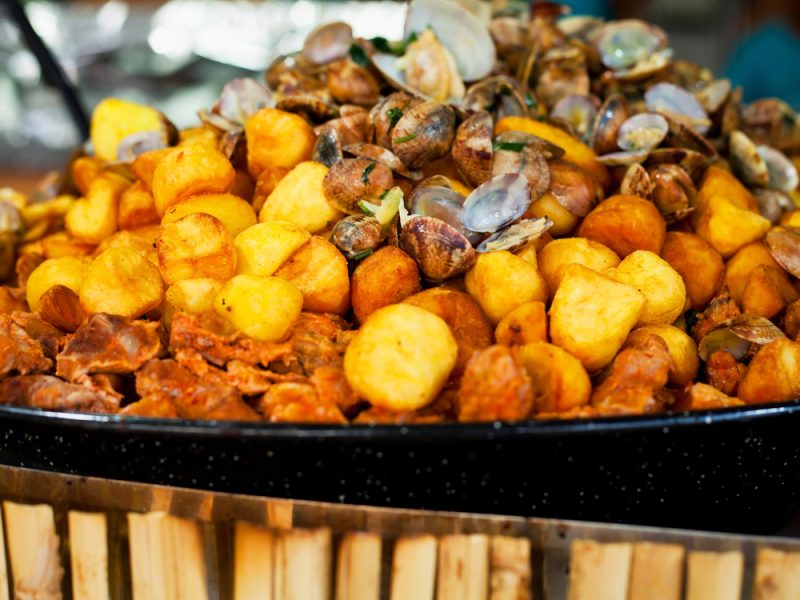 If you want to eat authentic next time you're in Portugal, why not try Carne de Porco à Alentejana? The name directly references the Western region of Alentejo, a coastal region where it's believed this dish takes it roots. The sea-side influence combines fried pork with clams, potatoes and coriander, to produce one of the most traditional and popular dishes on Portuguese menus. You'll need to set aside some serious time if you want to make this at home, with a shopping list that includes white wine, paprika, red pepper paste, chopped garlic, coriander and bay leaf, combining to produce an overnight marinade. It may be quicker to just hop on a plane to Portugal, and we certainly wouldn't blame you if you did.
Samgyeopsal (South Korea)
If you've never visited a Korean barbecue restaurant, it's certainly something to add to your culinary bucket list. Tables are fitted with a special cooking pan in the centre, letting diners cook the meat themselves, and enjoy it as hot and fresh as it possible. One notable delicacy to order is Samgyeopsal, a pork belly dish which became popular during the 1960s. The name literally translates to three layered meat, in reference to the visible layers of meat and fat in the cut. The most traditional method of cooking involves no seasoning or marination, then consumed with lettuce, raw onions and garlic.
Cochinillo Asado (Spain)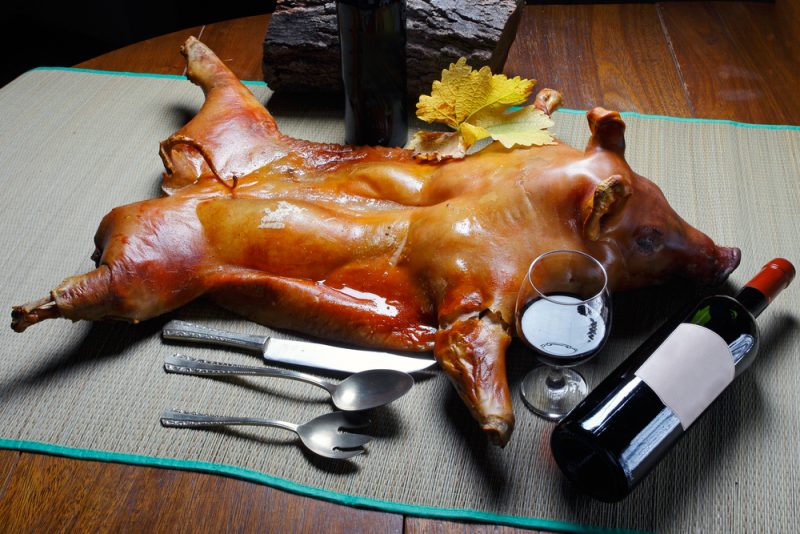 Here at The Roasting Pig we specialise in whole hog roasts, and serve up 50kg pigs that can feed an entire party. In Spain however, you can find a scaled down version in Cochinillo Asado – roast suckling pig – famed for it its tender and delicate meat. This may be a tough one to make it home – primarily in terms of sourcing young suckling hogs – but if your local butcher is able to help then you can spit-roast it to perfection in a standard hog roast oven. Measuring in at around a third of the size of a regular hog roast, but that's still more than enough to provide a great party centrepiece, and feed a party-load of hungry guests.
Related: Best Pork-Based Sandwiches From Around the World
If you decide to try cooking a whole hog roast yourself, why not hire your hog roast equipment from The Roasting Pig? We can provide professional-grade Titan hog roast ovens, with or without a hog to roast, with delivery, collection and tutorial all included. Contact us today to discuss your dates, or request a quote.
You might also be interested in: New Year's Food Traditions From Around the World