Turkey has been the traditional go-to Christmas dinner for centuries now, with its first appearance at the festive dinner table recorded during the early 16th century. Many sources claim that the Tudor monarch King Henry VIII popularised the bird as a Christmas main course, following its appearances on the royal menu. By the late 16th and into the early 17th century, turkey was a common feature on UK Christmas plates. Its role as the iconic Christmas main was firmly cemented in 1843, with the publication of Charles Dicken's A Christmas Carol, when the redemption of the miserly Scrooge famously begins with him sending the Cratchitt family the largest turkey in the butcher's shop window.
Fast forward to 2021 however, and as global supply chains recover from the difficulties of the last 18 months, there have been warnings to UK consumers that Christmas turkeys may be in shorter supply than previous years. This needn't be cause for alarm, even though a turkey shortage is far from confirmed, there are plenty of great alternatives available. Why not break tradition and give the turkey a break for the year, with one of these other great Christmas dinners?
Goose
If you're looking to avoid turkey, but stick with the feeling of Christmas tradition, then goose is the obvious choice. Prior to Dickens popularising the turkey dinner, many UK households would pick up a goose for their Christmas day meal. This can be seen in many records of the time, such as the classic nursery rhyme 'Christmas is coming, the geese are getting fat'.
Although goose can't match turkey in terms of size, it is a delicious alternative, and an average sized goose will still easily feed a family of up to five or six. The main difference when cooking is to remember to roast your goose on a rack to drain off the fat, and leave a nice crispy skin. Don't pour the fat away however, as it's the perfect coating for cooking crispy and delicious roast potatoes.
Nut-Roast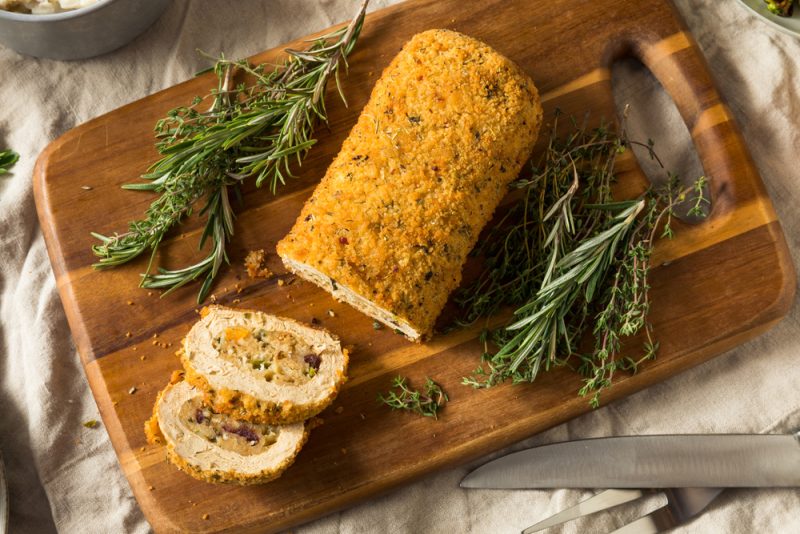 If you're catering to other dietary requirements, or if you just fancy going veggie for a year, then the nut roast is the classic Christmas alternative. It pretty much does what it says on the tin, with a mixture of nuts, grains and seasonings combined into a loaf-like shape, and then roasted. Popular on both sides of the Atlantic, it's also a favourite option for Thanksgiving vegetarians as well as at Christmas.
If you want to impress your guests, Nut Roasts are relatively easy to prepare, with many recipes available online. Add walnuts, pecans, hazelnuts and Brazil nuts to your shopping list, along with lentils, breadcrumbs, vegetable stock and cheese, and you'll be well on the way to a meat-free main, that you can still enjoy with all the trimmings.
Pork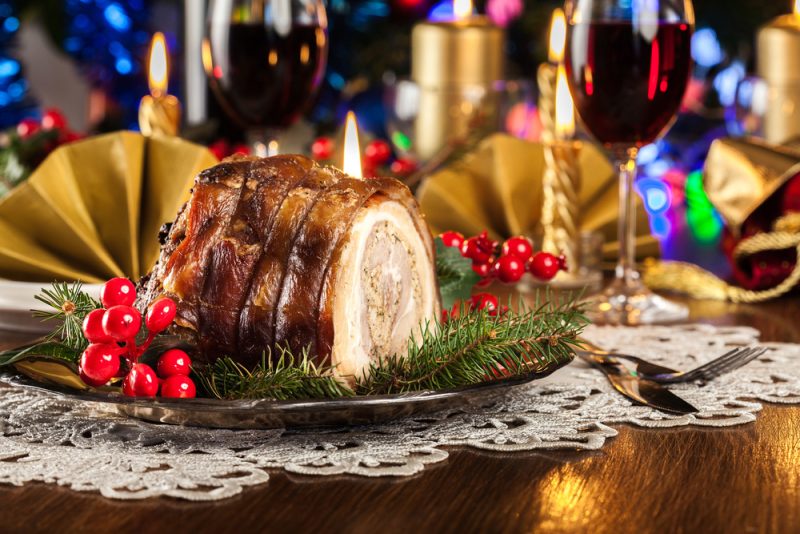 As one of the most versatile meats available, you'll be spoilt for choice if you decide to opt for pork on Christmas day. Possibilities to consider include slow roasted pork belly with crispy crackling, roasted loin with stuffing, or even tender pork cutlets. Let's not also forget thick-cut gammon, or the more rustic option of wild boar. And just because you've decided on pork for the mains, there's still no reason to neglect the presence of pigs-in-blankets on the side too.
For a real centrepiece on the festive dinner table however, we recommend a traditional Italian Porchetta. This boneless roast of suckling pig is seasoned with garlic and herbs, and stuffed with a savoury paste, to provide a rich and juicy meal that's a winner for both the main event, and Boxing Day sandwiches too.
If you're looking for a show-stopping catering option over the festive period, be sure to contact The Roasting Pig. We specialise in whole hog-roasts, available with either a team of serving staff, or as equipment rental only. With a choice of menus featuring locally-sourced meats, as well as vegetarian options too, you can expect a true banquet that your guests will love. For more information, contact us today.