With its roots in traditional American BBQ cuisine, pulled pork has seen a huge growth in popularity outside the USA in the last decade, and is now a firm favourite of diners around the globe. Here in the UK, you don't have to travel far to find pulled pork on a menu, with this sweet and smoky dish becoming a firm favourite.
But what's the story of pulled pork, and when did it first appear? We take a look back in time to discover the origins of this delicious dish.
The origins of pulled pork
The first appearance of pulled pork can be traced back to Europeans arriving in the Southern US. Cattle and pigs were the main meat source, but pork became the preferred option as pigs were more suited to the climate and environment, and much easier to maintain. Spanish settlers are thought to be the first to debut the dish, cooking pork for long periods over a low smoky fire, similar to methods they observed being used by natives.
After this extended cooking time, the meat and tissue of the animal becomes soft and tender, making it easy to rip and tear from the bones, and serve and eat by hand.
Related: pulled Is Pulled Pork on the Rise in the UK?
The evolution of pulled pork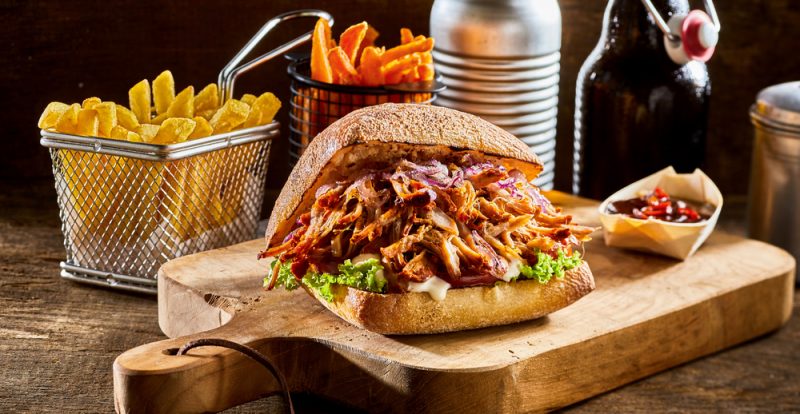 Since its inception, pulled pork has become a staple of Southern US BBQ dining, with a range of different recipes available from region to region. It's especially popular in Tennessee and the Carolinas, where you can expect to be served tender shoulder meat in a range of sweet and spicy rubs, or traditional BBQ sauce. The most popular way to serve is with bread rolls and crunchy slaw, or on loaded fries.
Pulled pork is also popular in the Polynesian region, with a dish named Kalua Pork. When made traditionally, this involves cooking it underground in an earth oven, producing a mouth-watering variation on the original smoky barbecue. This variation also includes soy sauce and pineapple juice flavours for rich and fruity finish.
Pulled pork catering
One of the best things about pulled pork is that it's a versatile dish, well suited to any occasion. From weddings, to birthday parties, to corporate events, it's the perfect option to feed a large number of people. It can be served as a sit-down meal, or 'street-food' style as everyone mills around, and is sure to be both popular and filling.
Here at The Roasting Pig we have our own unique pulled pork recipe, which utilises our dry rub marinade, made using flavours from around the world. We start by marinating the pork for 24 hours, then slow-cooking for 10 hours until the joint is so tender it can be pulled apart with a fork. Next up we add our BBQ sauce and home-made slaw for a sweet and smoky dish, with some added crunch on the side. Paired with refreshing side salads and roasted baby potatoes, it's a meal fit for any occasion.
If you'd like to consider pulled pork catering for your next event, be sure to get in touch with The Roasting Pig. Providing delicious food that can feed a large number of people on a budget is our speciality, and our package deals come with a host of extras to take the hassle out of the day. Contact us for more information.