Pizza, a traditional Italian dish from the 10th century, comprising cheese and tomato on a flatbread, is today one of the most popular foods in the world. Everyone has their favourite topping, and it's not uncommon to overhear frequent debates regarding which ones shouldn't be allowed anywhere near a pizza. (Pineapple, anyone?)
But aside from the wealth of topping combinations available, there are also numerous international trends when it comes to baking this tasty meal. As pizza enthusiasts, we take a look at our favourite pizza styles from around the world.
Neapolitan Pizza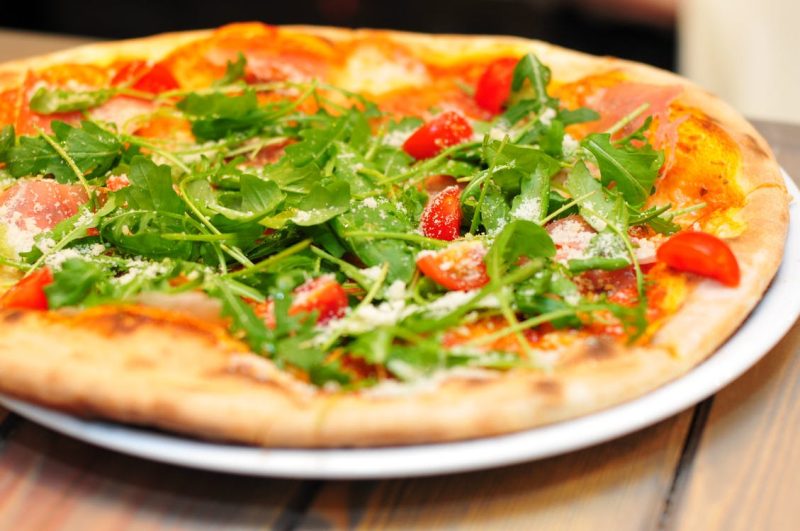 Regarded by many as the finest pizza in the world, a Neapolitan pizza has to be tasted to be believed. Much like the terminology of Champagne, true Neapolitan pizza can only be produced in its namesake region. This is because it must be made with San Marzano tomatoes, grown on the volcanic soil of Mount Vesuvius – the famous volcano situated on the Gulf of Naples. The light dough of this pizza is hand-kneaded and rolled out to no more that 3mm deep, before being wood-fired for 60-90 seconds. So particular is the recipe, it's included in UNESCO's list of intangible cultural heritage. But is it the best pizza in the world? You'll have to travel to Naples to find out.
New York Pizza
A direct descendant of the Neapolitan Pizza, the New York style was developed in America by Italian immigrants during the early 20th century. Similar to the Neapolitan style, it traditionally consists of thin hand-tossed dough, stretched and then and baked quickly at high temperatures. Over the years, New York pizza has evolved to be larger and thinner than its Italian ancestor, due to the popularity of selling single slices by street-corner vendors. This tasty variant is best consumed fresh from the oven, while the crusty is still crispy, and the base soft enough to fold in half.
Chicago-Style Pizza
Deviating from the traditional pizza style, Chicago pizza chefs do things a little differently. A younger cousin of the New York style pizza, the deep-dish Chicago offering is thought to have originated at some point in the 1940s. Characterised by a thick base and high crusts, this pizza looks more like a pie, with plenty of space inside for mounds of tomato, cheese and toppings. Baked in a pan as opposed to on a flat surface, the Chicago-style takes longer to cook due to its chunky base and ample fillings. Although some pizza purists don't count it is a true pizza, it's certainly delicious comfort food, however you decide to categorise it.
Greek Pizza
Many people believe the Greek pizza is defined by its toppings – usually tomatoes, olives and feta cheese – but this pizza style is once again defined by its base. The Greek pizza is another deep-pan offering, but this time with a large and fluffy base that resembles focaccia bread. It's baked in a pan much like the Chicago-style, but you'll notice a more generous application of olive oil, and a single layer of toppings unlike Chicago's pie-style filling. Although Greek pizza generally features the above-mentioned toppings, it can still be termed as Greek style with a range of different toppings too.
Pizza Catering Services
Here at The Roasting Pig, we're passionate about pizza. That's why we now offer a pizza catering service across Leicester, Birmingham, and the Midlands areas. Our own style of pizza is a traditional stone-baked offering, served hot and fresh from the oven, with a range of toppings to suit you and your guests. Our delicious pizza menu can serve up to 200 people, and is the perfect catering solution for weddings, parties, corporate events or outdoor parties. If this sounds tempting, please contact our friendly team today to discuss your requirements, and obtain a quote.