It's hard to find someone who doesn't like pizza. As one of the most versatile foods available, there are an almost infinite number of variations. Whether you're a hungry carnivore or a strict vegetarian, there's a pizza out there to suit you. And with vegan cheese and gluten-free bases now available, pizza can also cater to pretty much any dietary requirement.
Maybe it's because we love pizza so much that we get that nagging sense of unease when we see a pizza topping that really shouldn't be there. That's why, in honour of pizza purists everywhere, we've decided to run down the toppings that are most likely to cause a heated debate.
Pineapple
The granddaddy of divisive pizza toppings is the humble pineapple. With the 'Hawaiian' available on most pizza menus, it certainly isn't short on popularity. To those opposed however, it's a monstrosity. Some can't stomach the combination of sweet on savoury, others dislike the texture, and you'd be hard-pressed to find an Italian person who'd be in the same room as one. Whatever your personal opinion, pineapple pizza trumps even Marmite in the love-it-or-hate-it stakes.
Fried Egg
Almost everyone likes eggs, but the minute one appears on a pizza, most people start running for the hills. Say what you will about pineapple toppings, but a pineapple pizza at least still looks like a pizza. A fried egg sitting on a pizza just looks inherently wrong – as though a hurried chef mistook a pizza base for the breakfast plate. And then there's the added anxiety of cutting slices. How do you deal with the sloppiness of a popped yolk? And that's all before you even taste it.
Anchovies
Another topping available on most pizza menus, but have you ever actually seen someone order a pizza with anchovies? There's just something about the oily, salty nature of anchovies that turns most people's taste buds. Additionally, their brownish-grey appearance looks less than appetising to the eye, especially when contrasted with the yellow of the cheese. Although anchovy fans do exist, they're a rare breed, and anyone sharing a pizza with one may be less than thrilled.
Balsamic drizzle
Balsamic vinegar has a sharp, acidic bite which makes it the perfect drizzle for a crisp salad. As artisan pizzerias love to offer pizzas heaped with leaves such as rocket, basil and spinach, you've probably noticed the balsamic drizzle making an appearance too. While it works with crunchy leaves in a salad, many think it overpowers the flavour of a pizza and ruins the meal. Balsamic detractors would argue that if you want a salad, just order a salad, and let pizza be pizza.
Gherkin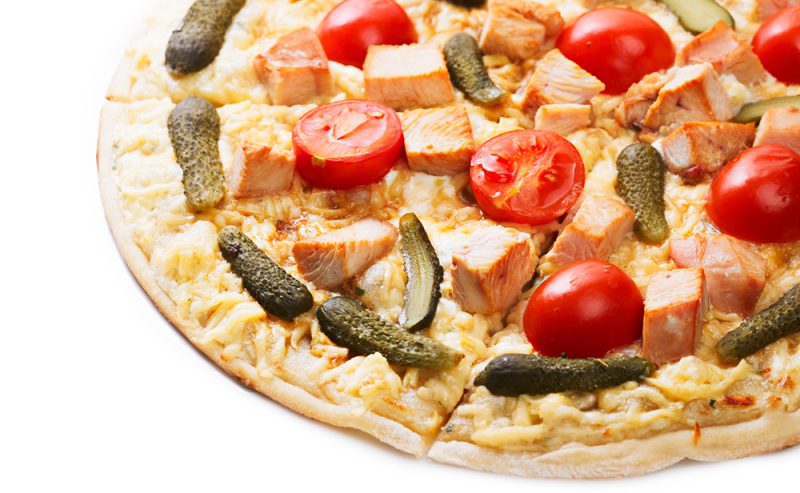 Perhaps the most pointless of all toppings is the poor gherkin. Sure, some like gherkin, but it's also a common sight to see people picking it off their burger, sandwich or pizza. It's almost an unconscious reflex action for many. Gherkins don't particularly offend in the way pineapple and anchovies do. Their smell and taste doesn't infect the pizza after you remove them. Their only crime is taking up space that could have been occupied by something better.
Here at The Roasting Pig, our pizza catering service offers a range of toppings, from firm favourites, to the unusual outsiders. If you're looking to cater with fresh stone-baked pizza your next event, be sure to contact our team for a free quote and to discuss you requirements. We can even create bespoke pizzas if you have any unusual requests… and we promise not to judge!