If you're busy searching for quality catering options in Leicester, United Kingdom, then you should immediately focus all of your attention onto The Roasting Pig. The Roasting Pig can provide you with the dependable, efficient and delicious catering service you absolutely deserve. When you want your event to go off without a hitch, there's no better catering business around than The Roasting Pig. We provide reliable catering services to weddings, corporate events and birthday parties alike. Our services aren't only limited to Leicester, either. We also focus on Warwickshire, Derby and Nottingham.
Pizza Catering

Pizza catering is a brand new service that we offer at The Roasting Pig. Not only is our stone baked pizza delicious, but it's also extremely budget-friendly. If you want to feed your event guests well but don't want to go broke in the process, our pizza can make an excellent and economical choice for you. Our company can provide pizza catering services for a maximum of 200 individuals at a time. We provide our clients with numerous different menu options. If you have a specific tasty topping in mind for your event, let us know and we'll help you out. Our pizzas are made using ingredients that are freshly sourced. When your guests take their first bites of our stone baked pizza, it'll be hot and straight out of the oven.
Other Delectable Catering Options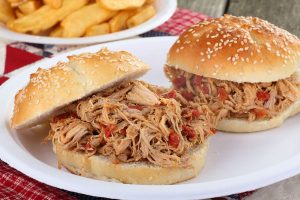 Although pizza is an exciting new focus for us here at The Roasting Pig, it's not the only food choice we have available for our valued clients. If you're looking for something a bit heartier for your event, consider hiring us for our pulled pork or hog roast catering services. If you want to feed your guests traditional American fare, pulled pork is a delicious choice. Pulled pork is a lot like hog roast. The difference, however, is that it's cooked exclusively with the finest shoulder of pork. We serve our tasty pulled pork with our signature barbecue sauce that's sure to get all of your event guests' mouths watering.
Call Us Today
If you need superb pizza, hog roast or pulled pork event catering service in or around Leicester, give us a call at The Roasting Pig today for more information. Our event catering services are efficient, hygienic, dependable and trustworthy. At The Roasting Pig, we prioritise the satisfaction of our clients above all else.