Hog roasts are so much fun when the weather is awesome. The smell of the roasting hog is intoxicating. You are advised to raise a few pints of stout or brown ale while you wait for the main event. While the pig is the star, with all that pulled meat and crackling skin, the sauces and sides are just as important to the meal. So, what goes really well with a hog roast?
The Perfect Sauce
You need a good tangy and sweet sauce to accompany your pork. Many of your guests will want to make a pulled pork sandwich piled high with meat, sauce, and cabbage slaw. Tyler Florence has a great recipe for sauce that is made with a base of apple cider vinegar. Anything apple goes well with pork.
Crunchy Red Cabbage Slaw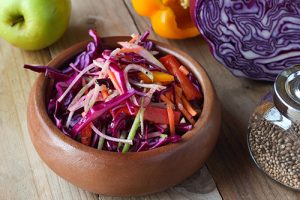 A good, crunchy and fresh slaw is all you need to top off that hog a super simple recipe that won't compete with the sauce. This is for 6 people. Recipe is courtesy of Aube Giroux. Aube infuses red cabbage with lemon juice, tamari, and garlic. The acid and salt help break down the fibers in the cabbage.
Honey-Glazed Roasted Delicata Squash
Delicata squash goes so well with pork. You could substitute acorn squash if delicata isn't available. The nice thing about delicata is that the skin is entirely edible and you can pick these wedges up with your fingers. Once you have roasted the squash, drizzle a reduced sauce of honey and cider vinegar over the top.
Ginger Baked Apples
Close out your hog roast with tart apples that have been baked with ginger, butter, sugar, nuts, and raisins. If it is an all adult gathering, pour some rum in there as well. You can bake a whole bunch of these while your guests are enjoying their hog. They are lovely hot right out of the oven, but can be served at room temperature. If you have a fire pit, wrap the apples in foil and bake them right in the coal embers.
Autumn is a perfect time for a hog roast when apples, winter squash, and cabbage are peaking. These ingredients all complement each other. To be honest, a hog roast is good pretty much any time of year. In summer, you could add sweet roasted corn and a creamy potato salad. Whatever time of year you choose to roast a hog, make it a feast and enjoy getting your hands dirty.