Over the past few years, the popularity of air fryers has soared. These affordable kitchen devices have seen increased success as they're faster than a standard oven, and healthier than a deep fat fryer. They're also affordable, don't take up too much space, and cook food to a delicious, crispy finish.
Air fryers have become synonymous with certain types of cooking, as crispy chicken wings, fluffy chips, and juicy burgers have all become firm favourites. However, air fryers can provide great results for a range of dishes, including our favourite meat – pork.
Take a look below as we run through our favourite pork dishes to whip up in an air fryer.
Air Fryer Pork Belly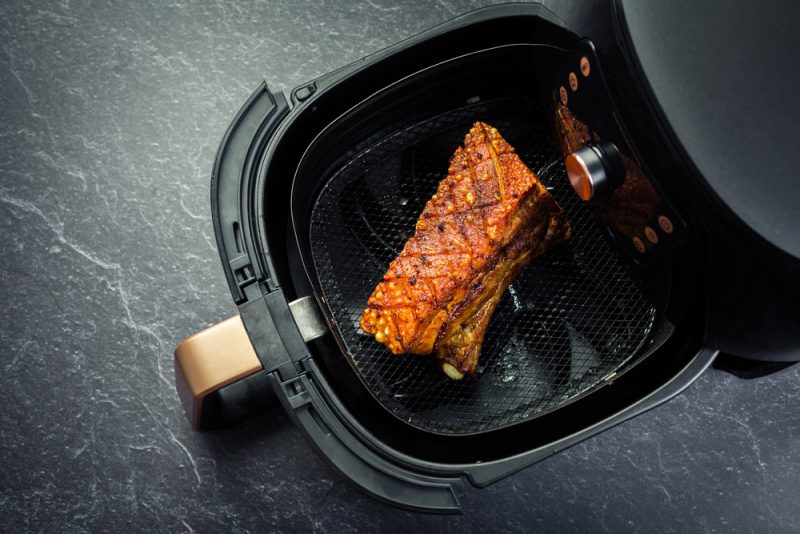 Cooking pork belly in a standard oven can mean a wait time of three hours or more. The efficient air fryer, however, can have crispy pork belly ready for you plate in just an hour. It's also super easy to prep. Simply grab a 1kg pork belly, score the rind, rub in salt and a spray of olive oil, and pop it into the pre-heated air fryer at 200° (skin side up). Lower to 160° for the final 30 mins. These times are just a guide, and can depend on the size of your pork, and power of your fryer, so ensure you check your meat before serving. Once cooked, let it rest in tin-foil for 10 minutes, then slice into cubes, and serve right away with BBQ, hoisin, or plum sauce.
Air Fryer Pork Chops
For a speedy dinner, try air fryer pork chops, which can be ready in around 15-18 minutes. Pick up some thick pork chips (1.5 – 2 inches thick), as this way you can enjoy them both soft and juicy in the centre, but still with those delicious, charred edges. Cooking the chops really is as easy as placing them into a pre-heated fryer at 200° and flipping half-way through, so the main effort is deciding on your favourite seasoning to apply. Why not give them a deep, smoky flavour with a rub made from one teaspoon each of paprika, onion powder, garlic powder, salt and pepper, and a half teaspoon of brown sugar, for best results.
Air Fryer Roast Pork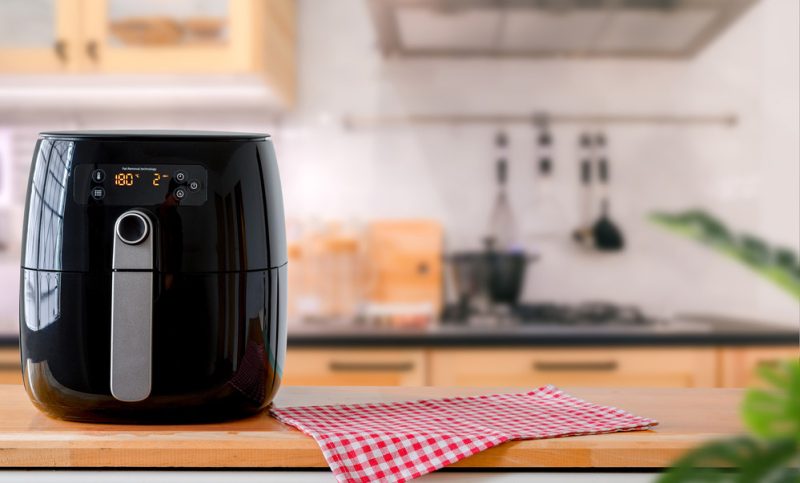 Although it's called an air-fryer, the cooker itself is more akin to a rapid oven than a deep fat fryer, which means it's also the perfect cooking option to make amazing roast pork. Pick up your favourite joint of pork (tenderloin or filet gets our vote), but remember to check that your cut will fit into your fryer. Keep it simple with a coating of salt and oil, or try paprika, garlic powder or Cajun seasoning if you're feeling adventurous. Score the fat, pre-heat your fryer to 200°, and then cook for approximately 25 minutes per lb of meat (if you're unsure whether it's properly cooked, a meat thermometer is a great investment), then treat yourself to an epic Sunday roast.
Air Fryer Pork Scratchings
For a range of great recipes for cooking the perfect crackling, including air fryer pork scratchings, check out our blog for making delicious pork scratchings at home.
Here at The Roasting Pig, we're passionate about food. Why not consider us for your next event, and let us wow your guests with our famous whole roast hog? We also offer a range of other locally sourced meats, as well as dedicated pulled-pork and stone baked pizza catering – ideal for gatherings and venues of all types. We cater to all dietary requirements, and offer a range of menus to fit your budget. For more information, contact us today.