Over recent years, Christmas markets have become an increasingly popular staple of the yuletide period. Now, pretty much every town and city in the UK is bound to play host to the familiar rows of wooden stalls selling various crafts and foods. In the Midlands most are familiar with Birmingham as their go to for a German market around this time of year.
Although some Christmas markets may veer towards the generic (an inevitability through their popularity), any Christmas market you find should at least feature the following tasty treats for you to enjoy. Here's a run-down of our favourite things to try at a traditional German Christmas market.
Bratwurst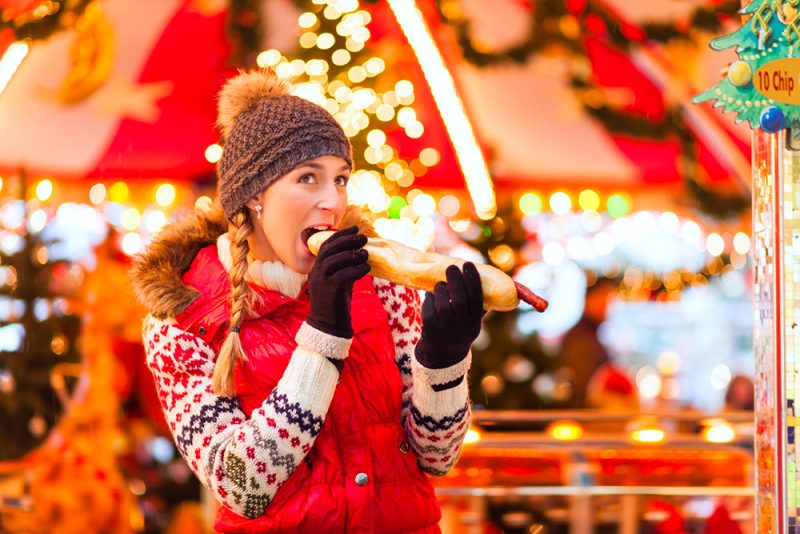 An age-old favourite, and one you're likely to find at even the most basic market, the smell of a sizzling bratwurst is becoming ever more synonymous with the Christmas period. With a name that literally translates to mean 'sausage made from finely chopped meat', it's a fuss-free and filling snack that will warm you on even the coldest evening. Thought to have originated in Nuremberg over 1,000 years ago, this tasty banger now has over 40 different known varieties, including pork, beef and veal. Whichever type you try however, it's best served in freshly baked bread with a generous topping of sauerkraut.
Gebrannte Mandeln
If you're not hungry enough for a whole bratwurst, these delicious candied almonds are a great alternative for something warm to graze on. Popular right across Europe, you're also likely to find them in Christmas markets throughout Denmark, Norway, Sweden, and Spain. As with bratwurst, they're likely to temp you in with an enticingly festive smell, but be careful – they're seriously addictive, and one bag is likely to lead to another. Additionally, share them at your peril, as you'll be fending off your friends and family until they're gone.
Schokokuss
The humble toasted teacake is few people's first port of call at the local supermarket. However, when you make them twice as big, give them a festive bell shape, and decorate with different coloured icings and drizzles, they suddenly become a much more inviting option. Literally translated as 'Chocolate kisses', you may also see them referred to on French stalls as Têtes Choco ('Chocolate Heads'), but whichever name they go by, they're perfect as either a treat for yourself, or to take home for a friend as a gift.
Glühwein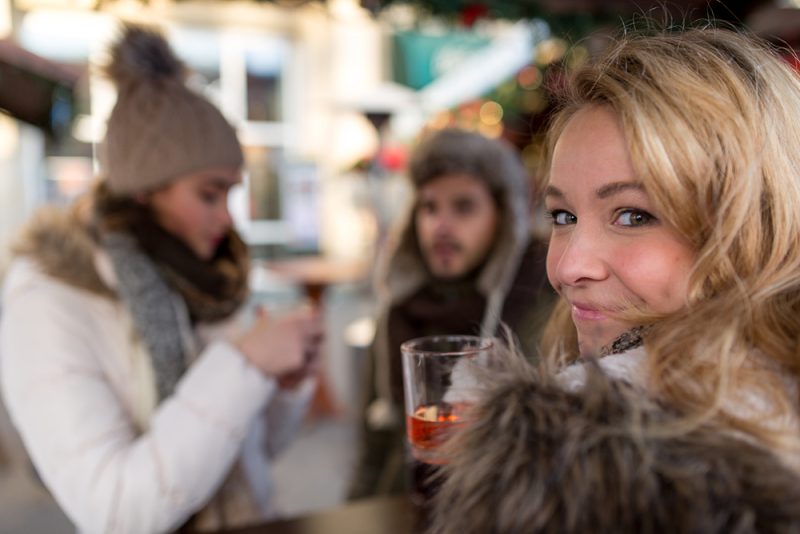 Probably the most festive drink you can think of (move over eggnog), this mulled wine, or 'glowing wine' as it translates to mean, is the ideal way to warm up. As a favourite of festive culture, if you're at a Christmas market that doesn't serve it, the event should be immediately demoted to 'a row of sheds'. Traditionally made from red wine – although some variants use wine from other fruits or berries – this yuletide beverage is heated and spiced with cinnamon, cloves, and sometimes sugar for extra sweetness. A treat for cold fingers as well as taste-buds, no visit to a Christmas market is complete without it.
Hog Roast
An alternative to the bratwurst option, you can get your pork fix at most traditional Christmas markets with a stop at the hog roast stall. Often spit-roasted for the wow-factor, it's just as good fresh from a hog roast oven. You can't go wrong with a few thick slices loaded into soft bread, and if you don't fancy the sauerkraut, then a seasonal stuffing is an equally great choice. Pure Christmas magic in a bun!
If you're organising a Christmas market or event, and you want to impress your guests, then a flaming hog roast is the way to go. Here at The Roasting Pig, our expert chefs are no strangers to Christmas menus, and can cook up enough delicious servings to satisfy even the hungriest crowd. For more information, don't hesitate to contact our friendly team today.