When planning a social gathering, organising the right menu can be a tricky affair. As well as different people having different tastes, there's also a wide selection of dietary requirements you'll need to take into account. Luckily, modern catering is becoming ever-more inclusive of different diets, so your vegetarian, vegan, and gluten-free guests can still enjoy a full selection.
Although it may seem a daunting task to begin with, catering to a wide selection of tastes and requirements needn't be a hassle.
Catering for a large number of people
When catering for a large group, it's a good idea to decide on a set menu to ensure a speedy service when it's time to eat. In this instance, a buffet meal is always popular, as guests don't have to wait around, and can fill their plate with as much or as little as they like.
Pizza catering is usually a safe bet, as it's a popular dish which can be served up with a range of toppings to suit a number of tastes. Alternatively a BBQ or hog roast is incredibly versatile, equally well suited to a number of events, from corporate gatherings to birthday parties to weddings.
When sending out invitations to your event, it's useful to include an option on the RSVP for guests to indicate any dietary options. This way you'll be well prepared to cater for the following requirements too:
Vegetarian party food
Vegetarianism is an increasingly popular lifestyle choice, but with a wide range of options available, it's far from restrictive. Vegetarian guests can be well catered for if you choose the BBQ option, just be sure to make a separate grill available to avoid contact with meat. Simply add vegeburgers and vegetarian sausages to your menu, as the typical sides and sundries that go along with a BBQ such as bread rolls, corn on the cob, salad and cheeses are all veggie-friendly.
From hot food such a pizza or canapes, to a cold buffet such as salad or sandwiches, it's easy to adept almost any party menu for vegetarian guests. With food that's as healthy as it is delicious, you may even end up tempting some of the carnivores away from the meat.
Vegan party food
Vegan diets are also increasingly common, and while this may initially seem slightly trickier to cater for, it's really not as difficult as you may imagine.
Although vegan cuisine requires that dairy is absent from the ingredients, there are numerous substitutes available. Vegan cheese means that pizza can still be on the menu. Additionally, the BBQ is still achievable as most vegeburgers and vegetarian food is also vegan friendly, as are most breads, sides and sauces.
In a buffet situation, why not add tortillas with dips such as salsa, guacamole and hummus for extra variety. Potato frittatas or loaded potato skins are also a great option, as are tartlets with a range of vegetable fillings. These are perfect for vegan guests, and sure to be tempting to everyone.
Allergies and gluten-free catering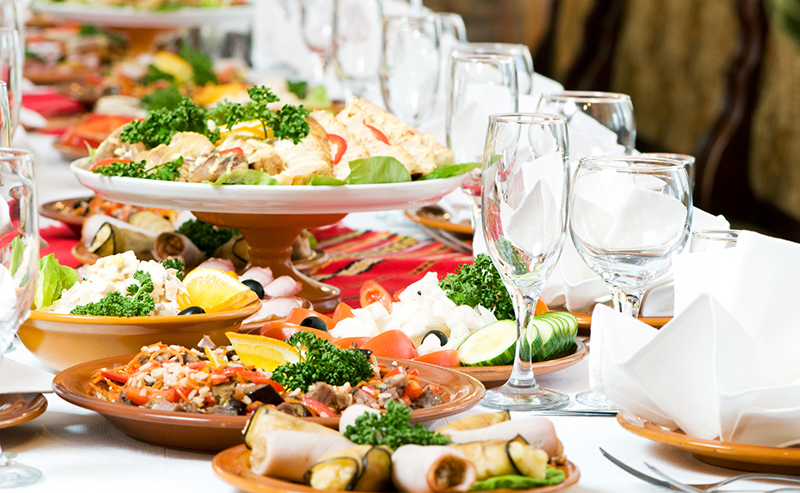 Although the gluten-free diet has seen a recent surge as a lifestyle choice, for those with a coeliac disorder, it's more than just a passing fad. To anyone with this autoimmune condition, the consumption of gluten (the mixture of proteins found in wheat and grains) can lead to health problems.
Luckily, due to gluten-free diets recently becoming more mainstream, there's now an ample selection of gluten-free breads, biscuits and other snacks available. Even when discarding wheat-based foods, a gluten-free diet can contain meat, fish, rice, potatoes, fruit and vegetables, so there's a huge range of catering options still available.
The main thing to remember is to make sure you know your guests requirements and allergies in advance. Here at The Roasting Pig we cater to any type of diet, meaning you can leave the details to us, and get on with enjoying your day. For more information, or to check the costs and availability of our award-winning hog roast catering service, be sure to contact our office today.