Food Hygiene ratings are a great way for diners to learn more about where they decide to eat. Cleanliness of any food-serving establishment is a top importance, in order to protect customers from food poisoning. Awarded by the Food Standards Agency on a scale of 1-5, these can be found displayed within green stickers wherever food is served. You can also head over to ratings.food.gov.uk to search for a business' rating if you can't see it.
In order to help businesses achieve top marks in food hygiene, the Food Standards Agency publish a set of guidelines to follow. Whether you're a commercial server, or just looking to improve your own hygiene levels at home, these are the things to be aware of.
Maintain personal hygiene
This is the easiest requirement to achieve. Personal hygiene should be the first thing you check before you even enter the kitchen. Ensure your hands are washed, your clothes are clean and suitable for cooking, and that you have no illness that you're at risk of spreading. Retail business may also add extra requirements, such as gloves and hairnets where needed.
Remember the four Cs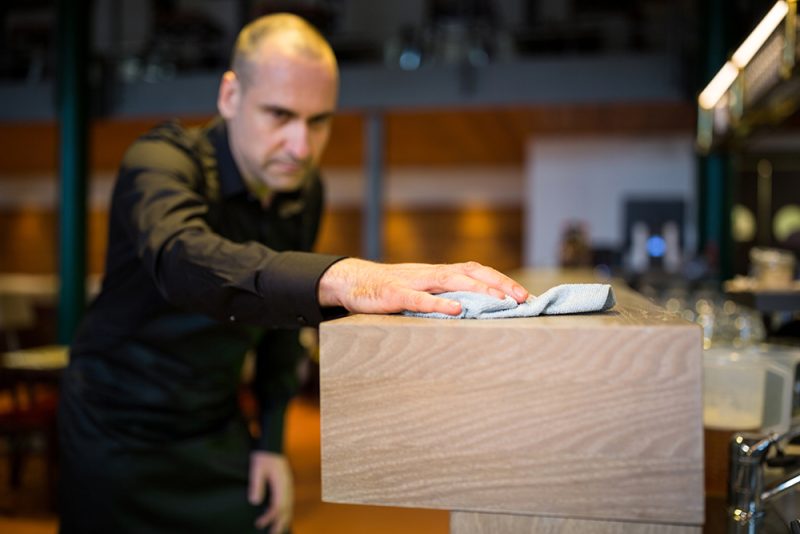 The four Cs of food hygiene are:
#1 – Cleaning
#2 – Cooking
#3 – Chilling
#4 – Cross-Contamination
They're all incredibly important.
#1 – When cleaning, ensure you're using the correct cleaning products for the job, and thoroughly clean all surfaces and equipment. Clean as you go, remembering to mop spillages, and clear waste into the appropriate bins.
#2 – For cooking, all food should be cooked thoroughly until it's steaming hot throughout. Take special care with meat, and be sure to cook until it's reached the appropriate temperature and the juices run clear.
#3 – Chilling refers to keeping all perishables in a properly cooled fridge. Don't leave food out at room temperature, and always follow use-by dates.
#4 – keep raw food away from ready-to-eat food to avoid cross-contamination. Use separate preparation areas wherever possible, always use separate chopping boards, and be sure to disinfect surfaces and equipment, and wash your hands in between.
Store food safely
Be sure to pay attention to how you store your food. You should be aware of which items belong in the fridge or freezer, and which are okay to be stored in the cupboard. As already mentioned, you can prevent cross contamination by keeping raw foods in a separate fridge to edible food. Also be sure to keep all food in tightly closed and sealed containers to keep it fresh, and also to prevent bacteria, chemicals, or any other objects in general from falling or getting in.
Transport food safely
This is essential for businesses, but also a great idea to follow domestically too. Whether you're a business transporting food from the cash and carry, or you're just driving food over to a friend's BBQ, proper storage can prevent food from becoming contaminated with either dirt or bacteria. The main rules are that chilled and frozen foods should be kept at the right temperature, and raw foods are kept separate. This can be achieved by using cool bags, cool boxes, or even a refrigerated van depending on the job, and remember to keep all packaging air-tight and secure.
Educate others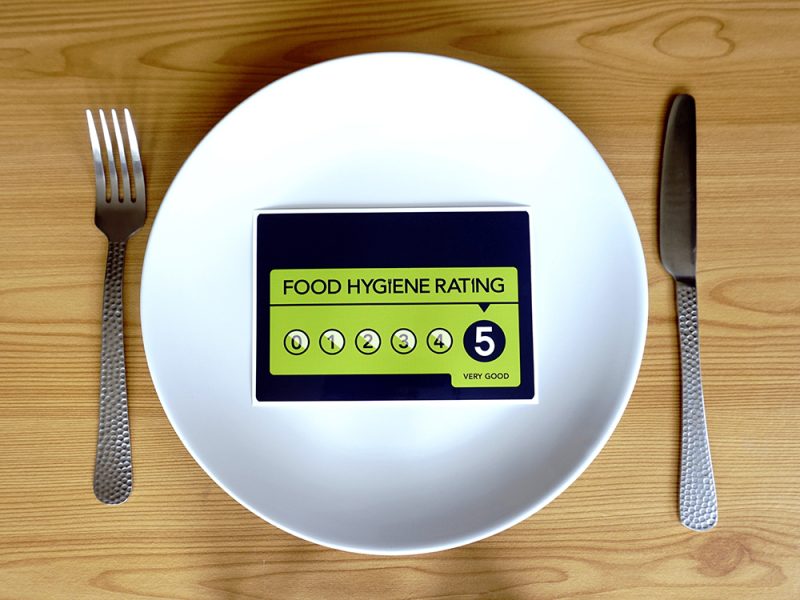 Now you know about food hygiene requirements, be sure to share this advice with your friends and family. If you're running a business, you'll need to go one further, as UK law requires you to ensure all staff receive the appropriate training and supervision for the job. If staff don't already have the the necessary experience, training can be carried out by both private study and at work. Further details, advice, and requirements can be found on the food.gov.uk website.
Here at The Roasting Pig, we're the proud owners of a level 5 food hygiene rating, which is the highest possible score. This means that if you're looking for the perfect catering solution for your next party or gathering, you can book one of our impressive hog roast banquets with complete confidence. As well as the highest hygiene rating, we also boast a massive mouth-watering hog roast menu, and a team of fully-uniformed staff who are ready to make your day one to remember. To learn more, don't hesitate to get in touch today.