You may have seen one of our catering vans with The Roasting Pig logo on the roads around Leicestershire and wondered what we're all about, but it's really quite simple – we're the top mobile hog roast caterers for hire in the county! And if you think that's a bit of a mouthful, wait 'till you taste our delicious hog roast, pulled pork or other roasted meats and poultry.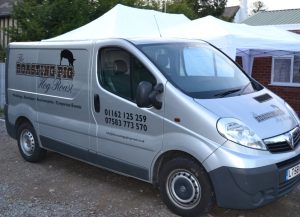 So, who do we provide hog roasts in Hinckley, Barwell, and Earl Shilton, for instance? Anyone who wants us is the short answer, as we offer on-site wedding catering (our hog roast catering service is always popular with the guests), catering for corporate events, banquets, birthday parties, and any other special occasion where there are hungry mouths to feed. As well as our hog roast, pulled pork and other roasted meats, which are all prepared, cooked, carved and served by our professional staff at the venue, we also offer outdoor pizza catering – freshly prepared pizzas with a choice of delicious toppings – plus a range of fresh salads and dressings, and a selection of luxury desserts to finish.
Covering all the main towns in the county, such as Anstey and Charnwood, to name only two, The Roasting Pig has earned a reputation for providing professional and friendly service wherever we go. Did we also mention Melton and Melton Mowbray? Whether it's providing a tailored hog roast and carvery package for a big wedding party at a prestigious venue in Market Harborough or Lutterworth, or setting up our stone baked pizza oven at a large corporate do in Oakham in Rutland, our professional chefs and fully trained staff are up to the challenge. That said, we also cater for a lot of smaller functions throughout Leicestershire.
Wedding catering for Venues in Leicestershire and beyond
Wedding catering, and catering in general – whether indoor or outdoor – has changed so much in the last decade or so. It used to be the case that if you wanted to treat your guests to first class fare, you had to book the best restaurants or hotels, or have pre-prepared dishes shipped in, and be faced with a hefty bill. But with The Roasting Pig catering service, you can definitely have the best of both worlds and savour the big banqueting experience and great food cooked and served at your venue, without breaking the bank.