At The Roasting Pig we can accommodate for any type of special occasion, from anything from a large wedding to a small family gathering, we offer a wide range of different menu choices which can be then tailored to any kind of event. There is an ever growing demand for the classic hog roast and with mouth watering food at affordable prices, along with simplicity, it's no wonder why so many people are opting for this at their special occasion.
Below are some of the special occasions that we can accommodate for, we provide these services locally to customers nearby in Loughborough, Leicestershire and to customers around the Midlands including Nottingham and Derbyshire.
Wedding Catering Specialist
A big area of ours is weddings, when you have to feed a large number of people this can get difficult and that's where a hog roast would come in handy, we offer a variety of packages tailored to weddings, which can include optional deserts and canopies. We are familiar with the local venues across the Midlands and can provide everything you need for your special day, we pride ourselves on a hassle free service, taking the general stress out of a wedding hog roast.
Christenings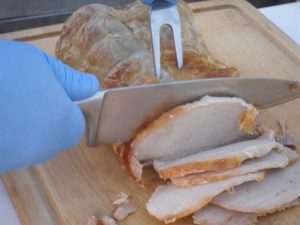 When celebrating a christening or naming ceremony of a new child on a family occasion this could involve a large number of family members which again makes a hog roast a great option. We also offer a vegetarian option on request along with a number of sides and salads to accommodate for all tastes. We cover a great number of christenings every year, from small groups to large family gatherings. We have also provided a hog roast for a christening for Leicester Tigers player Neil Fletcher as well as a range of other professional clients.
Corporate Events
As well as family gatherings we also provide a hog roast catering service for corporate and business events. Feeding a large number of people, these are a great idea to compliment other catering services to give a good variation to guests. Our chefs come fully uniformed to give a professional image suitable for any corporate event.
Birthday's, other occasions & Hog Roast Hire


Our hog roast services stretch to birthdays and other special events, wherever you might have a small to large number of people, with our packages you can be assured that we will have the perfect solution for you. We also provide a full hog roast hire service to customers around the Midlands, where you can choose to hire the equipment or just take the whole hog if preferred.